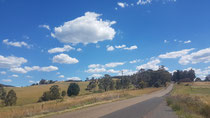 It´  s been 4 months since I made the decision to retire from professional running. The last years I have kept the world posted about my life as a professional runner and I thought maybe some of you might be interested in how my transition period to a normal life outside athletics is working out for me. It might also take the chance and answer some questions I am getting asked a lot the last months.
To be honest I had thoughts about a possible retirement a lot earlier than this February, but to really make the decision is just another huge step. The first days after the announcement I felt touched by all the nice messages I recieved and aswell nostalgic and sad because it´´´  s hard to imagine that your life as you know it will turn up-side- down. You won´´  t see all your friends with whom you traveled the globe to race no more, aswell as your teammates- so your whole social life is changing. You don´  t have to go out for a run everyday at 10 am and 4pm, there are no physio- appointments you have to go to- there is no necessary structure to your day anymore!

- Do you still run? Do you exercise? Will I get totally unfit?? There where all the uncertainties I never had to face before in my life.
 So what I was trying to, was to keep a certain structure in my life. I still run quite a lot, well running might not be the right term- I jog- at least 5 times per week- if I don´  t jog I go for a hike, or a bike ride or do stuff like climbing and acro yoga or golfing with my parents- just all the things I couldn't do while I was training professionally. I was running the Austrian women´s run, to pace a friend of mine and I was nicely surprised that I can still run sub 20mins. But I was even more surprised that I managed to run 35k at the wings for life world run- which definitely lit the fire in me to run a marathon the next years :D The thing I really enjoy about  running at the moment is that I can run on the craziest mountain at home I can find, not caring about the fact that my legs will be sore the next 3 days, if I run uphill for 2 hours and downhill for 90mins!
- Do you still have pain? Yes absoultely.. :/
I still have 3 core/strength exercises per week, because only because I retired doesn't necessary mean that I got rid of my back and sit bone pain! This exercises really help me to keep them at bay as much as possible. After a really a nice interval session with Christoph last week, my hamstring tendonitis got so bad that till today I can only jog painfree in a certain super slow pace..These are the days where I am just happy that I don´  t have to run with pain anymore and that the decion I made was right for my body! I can go out for a run if I like to- but I certainly don´  t have to!

- Did you gain some weight?? Yes definitely.
After letting go of the restrictive diet I was used to and working out a lot less, I was gaining a little bit too much in my opinion. One thing I always wanted to try was a fasting week. It was quite hard to not eat for like 4 days, but it really helped me realising that my body doesn't need that much energy anymore and I do feel much better in my body now and have like 3-4 kg more than race weight which I feel comfortable with. My diet has changed just a bit more towards a vegan diet, but not 100% as I was used to a restrictive  diet for the last 10 years and I don´ t wanna put myself under this pressure any more and wanna enjoy going to a traditional Austrian "Heurigen" once in a while.
- What do you do now? What do you work? Are you still studying? Yes to all of it!
I really try to keep myself busy because once I am not busy I it ´  s easy to get lost in thoughts. I am currently working on my master thesis- focusing on "stress and injuries in elite distance runners"- and I still have one more exam and 2 more mandatory courses aswell as an internship to do before I can call myself "Master of sportsscience and trainings therapy"

- I started doing some running technique courses and personal training and I really enjoy helping runners with there posture and running style aswell as giving new runners the motivation to keep running!

- I was working on a talents project called "athletic girls" with my club Union St Pölten to motivate young girls to try athletics

- I started coaching young distance talents- which is a whole new experience for me to stand on the other side and think about training, competing and all the additional things

- I am currently doing an awesome course for "Sportstherapy" - I never learned that much about training and rehab in my life and I just enjoy getting a whole new point of view on things

- I have a lot more time to follow my new hobbies! Like horseriding, something I had to keep on hold during my time as a professional runner. Environmental issues and trying to life a more sustainable life than an average person were always really important to me. No doubt that high performance athletics is not sustainable at all. Travelling the world and needing more running shoes per year than a normal person would use in a lifetime definitely used up my whole Co2 footprint for maybe my entire life. I always loved working in the garden and collecting herbs and making homemade jams. All these things are 100% grandma things- so I find it quite appropriate that I am spending more time doing those things!! :D Christoph and I rented out a small piece of land where we can grow our own veggies and we are trying more than ever to life a plastic free life and our nutrition slowly turns towards 90% vegan. Another thing that was and is still annoying me big time is the amount of trash you can find alongside streets and aswell in nature. Due to the slow pace I am going it´  s no problem to collect some items during my run- my goal for this year: Collect 3 pieces of trash everyday!
- One thing I am so thankful for is, that I can do so may activities with my friends that I could never have done with professional training like hiking for 7 days in July!! Or just normal things like catching up on weekends, because I am not on a camp or a competition! And I am so glad that I have a lot of friends who are former athletes who give me advice when things do get tough sometimes- because watching my first athletics meet was quite hard- because it made me realise that I will never ever be that fit again to compete at that level.

So all in all I am really happy about my decision and really thankful that my body is still healthy enough to enjoy running as a hobby runner! :)
Jenni